Read Reviews - Adelyn
Adelyn is a beautiful escort with a gorgeous body and stunning features. She's sexy, erotic and the perfect companion for a dinner date out or a romantic nigh in.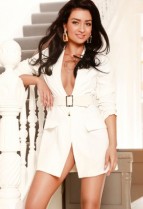 Simon

|
Date 2022-09-16
|
Service: Outcall
|
Duration: 2 Hours
|
Looks: 10
|
Performance: 10
Saw Adelyn for 2 hours and I m pleased to say she was a good as could be. Talented, sexy and happy to do this job and enjoy herself too. Perfect for a fussy old man like me. No complaints.
Gary

|
Date 2022-09-08
|
Service: Incall
|
Duration: 2 Hours
|
Looks: 10
|
Performance: 8
Charming escort and that body is just something else! Firm, toned, soft, great curves, I m drooling right now just thinking about her. Adelyn was sexy with a capital S , and she knows it (and she will certainly make sure you know it too). She went out of her way to make me feel on top of the world. We did hit a couple of barriers with communication over services I thought were included but Adelyn was very professional and explained what she does and doesn t do and I can only respect her choice. The apartment is done up nicely and well equipped, it s a real little boudoir and you can t help but feel quite special when you arrive. She is very good at her job but she doesn t do all services listed, that is my only complaint but not a biggie. One thing I will say is that every minute of my time spent there was all about me. The whole experience was quite special and I genuinely felt like a new man when I left.
Gazza

|
Date 2020-07-13
|
Service: Outcall
|
Duration: 1 Hour
|
Looks: 9
|
Performance: 9
What a cracking escort. All pictures are real and she s very easy to get on with, open-minded and enjoyable. The best I ve seen so far. Thank you!