Read Reviews - Avelina
Avelina is the ideal escort for a dinner date or a night out on the town. If it's a sexy, passionate and gorgeous young lady you're after they don't get much better.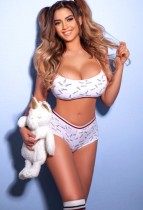 Fari

|
Date 2022-06-11
|
Service: Incall
|
Duration: 1 Hour
|
Looks: 10
|
Performance: 10
I actually saw Avelina with her flatmate but will just leave the review for both here. Firstly, Avelina has a bubbly personality that is very infectious and with her striking eyes and amazing breasts, she is the perfect girl to double up with. Both of them was not only beautiful but very genuine, tentative and caring to my needs and just very fun to be around. Her friend is a little older and perhaps a little more experience also. They work amazingly together, treating me to a show then inviting me to join in. I can honestly say that I had one of the best experiences in life with these two dream girls. One to repeat again as soon as I can and one that I would recommend to anyone. They were all about pleasing me from start to finish and they did a pretty good job of it too. Thanks girls, I loved it!
Mark

|
Date 2020-08-05
|
Service: Incall
|
Duration: 90 Minutes
|
Looks: 8
|
Performance: 10
Quite an amazing one this time... Avelina did not disappoint and comes with so much energy that she simply blows you away. She was easy going, sensuous, beautiful and full of ideas and It was the most fun I ve had in some time. An experience I have to repeat again soon with one of the most attractive escorts I ve met so far. Almost too good to be true!