Read Reviews - Veronica
Veronica is stunning and sexy and has a lovely personality. She's the perfect high end choice for anyone who loves an elite model escort with a wild imagination.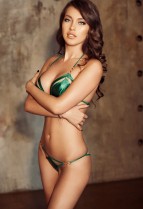 Ricky

|
Date 2021-11-28
|
Service: Outcall
|
Duration: 2 Hours
|
Looks: 10
|
Performance: 10
Seriously THE BEST ESCORT I have seen in years! This girl has been blessed with an amazing body and has developed some impressive skills. Trust me, you won t want to stop looking into those eyes when she s delivering her special lip service. If I could give her 11/10 I would
Harry

|
Date 2019-05-26
|
Service: Incall
|
Duration: 1 Hour
|
Looks: 10
|
Performance: 10
I know the Agency may have thought I was a bit of a time-waster but I was nervous and wanted to be sure I was selecting the right lady. Many were suggested and I did take a long time to decide. I went with Veronica, really because she seemed more mature and had a kind face. I was pleased with my choice and want to thank the agency for being so patient with me. Wonderful service on every level xx
Nick

|
Date 2019-01-23
|
Service: Outcall
|
Duration: 2 Hours
|
Looks: 10
|
Performance: 10
Fun and bubbly - she treated me to the best back rub, probably the most expensive back rub I ve every had, but if you see this girl she s worth it. She s slim, fits into her jeans beautifully and when she s out of them her body is just perfect. She is very very very sexy with a face like a model and I am more than happy with my experience with her. She is definitely girlfriend material if you can afford a lady like her. Loving, dirty, sexy and beautiful, but I know it s just a business arrangement.