Read Reviews - Honey
London escort Honey is as sweet as her name, with beautiful features, big brown eyes and a stunning body to match.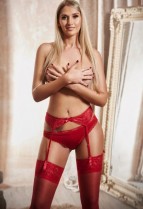 Rav

|
Date 2023-02-17
|
Service: Incall
|
Duration: 2 Hours
|
Looks: 10
|
Performance: 9
Beautiful inside and out and totally refreshing. Perfect performance!!
Wesley

|
Date 2022-11-03
|
Service: Incall
|
Duration: 1 Hour
|
Looks: 8
|
Performance: 7
Agency Pink has been great so far and I am yet to be disappointed by their girls. Honey was another nice escort and I really enjoyed spending time with her. One thing she does do is smile a lot. This escort puts a lot of effort into her work and the only slight down side were the few rules and limits she has. If you like a little more action then she s possibly not the best one to go for. However, her looks alone were enough to get me going. She s naturally very attractive and that made the experience even better. I had a lot of fun with her and I would definitely call in again for a service from the agency. I don t feel I need to see Honey again but lack of kissing is my only reason for not returning. I like to experiment a little more than she was willing to allow but as she s new I have found that this can change over time with escorts. Good enough for a quickie and very appealing to the eye but a few too many restrictions for me.