Read Reviews - Silvia
Silvia is a stunning, young, fresh and friendly escort in Bayswater. She's sexy, adventurous, has a beautiful body, long legs, a killer smile and looks to die for.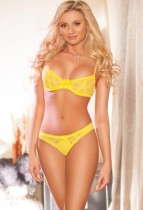 Jason

|
Date 2020-01-20
|
Service: Incall
|
Duration: 1 Hour
|
Looks: 10
|
Performance: 10
Silvia was just as you said she would be - beautiful, friendly and naughty, she was also incredibly helpful when I couldn t find the flat. There was nothing not to like about her - she s smart, legs are unliveable, she s sexy as hell and amazingly enough a really nice person too. Looks, sex appeal and charming. I also want to mention that the lady on the phone was superb at her job and very patient. Top agency, top girls and top service.
Adrian

|
Date 2019-07-22
|
Service: Outcall
|
Duration: 1 Hour
|
Looks: 10
|
Performance: 10
Looks as good as the pictures. Nice and slim with a great body and some see-through lingerie on showing me everything beneath. Looks like a model and as a seasoned punter I can say this was an excellent punt. Services were enthusiastically delivered, twice, and no hint of clock watching. Silvia wants to please and does a great job doing so.I will be returning. RECOMMENDED
Hank

|
Date 2015-04-01
|
Service: Incall
|
Duration: 90 Minutes
|
Looks: 10
|
Performance: 10
She must be in demand because I have asked for Silvia a few times but she is never available. I was starting to think she didn't exist but I finally managed to get my appointment. I was so excited when eventually she was ready for me to visit, It has taken me three attempts to get to see her. She was amazing and I was not disappointed, exactly the same in real life if not better than her photos and most importantly perfect performance in the bedroom. She is now officially my new number 1. I've already booked my next appointment... Roll on Tuesday!
David

|
Date 2015-03-14
|
Service: Incall
|
Duration: 3 Hours
|
Looks: 10
|
Performance: 10
This lady is hugely in demand. I was lucky to get a booking with her at short notice so book ahead. I stayed for 3 wonderful hours with her and I made the most foe every minute. I f you see this girl in the flesh you'll understand why she's so popular. She is tall and slim with the most incredible legs, small firm breasts and is perfectly smooth and tasty. We experimented loads and she is fine to go the extra mile if you like things to get a little naughtier. Silvia was a dream, as sexy as they come and no holding back. I will continue to book her for as long as she's still available.
Phillips

|
Date 2014-10-15
|
Service: Incall
|
Duration: 90 Minutes
|
Looks: 10
|
Performance: 10
She is VERY beautiful. This meeting was probably the best I have had so far with her and I have had a few meetings with Silvia to date. She's great company, chatty and warm and always lovely to me. She knows exactly how to treat me and she doesn't need to ask what I like as she knows me inside out. Please just make sure you give Silvia the respect she deserves.
Harry

|
Date 2014-09-06
|
Service: Incall
|
Duration: 1 Hour
|
Looks: 9
|
Performance: 10
Next time I am going to cancel any plans I have for the evening and spend it all with Silvia. I was gutted I hadn't booked longer. Thanks so much for making me feel so welcome xx