Read Reviews - Mandy
Mandy is a passionate, playful, fun and naturally very beautiful escort with a cute smile and youthful complexion. She's slim, super sexy, takes good care of herself.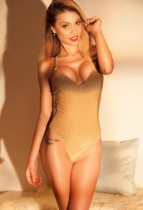 Mr Anderson

|
Date 2022-04-18
|
Service: Outcall
|
Duration: 2 Hours
|
Looks: 7
|
Performance: 9
Mandy was a nice choice. A truly sensual and intimate experience and a must for a second appointment soon. Naughty and very very nice!
Kevin

|
Date 2022-02-08
|
Service: Incall
|
Duration: 1 Hour
|
Looks: 8
|
Performance: 10
This one looks just as good as her pictures, very cute and sexy with it too and just a lovely person to spend some time with. I will definitely be visiting Mandy again when I m in need of a little tlc. She s very convenient to get to from my office. I m not sure if that s a good thing or a bad thing yet. I can see this being a costly year for me and a good one for Mandy if she plays he cards right.
Martin

|
Date 2020-07-14
|
Service: Incall
|
Duration: 2 Hours
|
Looks: 9
|
Performance: 10
Too many times before booked an escort, only to find the agency don t care and the photo`s too airbrushed and far from the truth. This time the service was impeccable with swift feedback a friendly service and timely details forwarded. 10 out of 10 for service and Mandy was perfect!
Mo

|
Date 2020-03-03
|
Service: Incall
|
Duration: 1 Hour
|
Looks: 9
|
Performance: 10
I have been waiting to see Mandy for a very long time. Covid put a stop to it unfortunately. Finally i made it there and no regrets! She was so sexy, open minded and just incredibly alluring! She looked stunning in her red lingerie set and I was so satisfied I did not want to leave. I will be back again soon, (birthday treat). Xx