Read Reviews - Poppy
Poppy has a love for life, a positive attitude and is always a delightful escort to spend time with. She's the perfect busty brunette choice with all the added extras.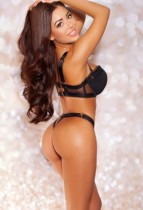 Kurt

|
Date 2022-03-23
|
Service: Incall
|
Duration: 1 Hour
|
Looks: 9
|
Performance: 9
I have tried to book Poppy for the past few weeks but she s always busy. I finally got her today so it s my turn to leave some feedback... Firstly, I have to say I had an amazing time and you d be mad not to try her. Poppy was wonderful: smart, absolutely gorgeous, confident, just what I hoped for. She has a delicious body that s flawless, the perfect smile and great breasts. The performance she gave started with a little drink together and the music came on and the clothes came off, I had a front row seat and no restrictions. I couldn t keep my hands off her. This girl is seriously HOT!!! Let her do her thing, she s bloody good at her job and worked on every part of me to make sure I was completely satisfied. I returned the favour and she enjoyed it too. A great hour well spent and it all felt very natural. She is a keeper and made my week a thousand times better. Thank you to the Agency also for making the arrangement easy and hassle free. Fantastic service.