Read Reviews - Tamsin
Tamsin is a lovely young London escort companion with a sweet personality and a gentle nature. She's polite and friendly and a perfect choice for any occasion.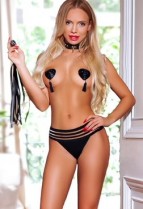 Will

|
Date 2021-08-15
|
Service: Incall
|
Duration: 90 Minutes
|
Looks: 8
|
Performance: 10
I perfectly understand many guys gave her 10 out of 10 for effort! She is just brilliant. Not only her fantastic little body and beautiful face (even better than photos), she also is very flirtatious and fun. The whole experience with her was enjoyable and I m 100 % certain I will see her again soon. Many thanks Tamsin, you were just wonderful!
George

|
Date 2021-03-14
|
Service: Incall
|
Duration: 1 Hour
|
Looks: 10
|
Performance: 10
I have not done this escort business much but have to say that Tamsin was spot on from start to finish. Inside and out this escort is everything you could want. She looks great and has a delicate little body that you just want to sweep up in your arms. Perfect little breasts and nice tanned skin and when she bent over - Woooooh!!! I made her keep her heels on and well... I can tell you that it s a sight I will be back to see again soon. I genuinely nice experience and a very likeable young lady. 10/10
Tim

|
Date 2020-10-14
|
Service: Outcall
|
Duration: 3 Hours
|
Looks: 7
|
Performance: 8
Tamsin is more beautiful than those photoshopped pics, sexy and intelligent too. Nice, honest escort and great fun to be with. A gem in my opinion and they are few and far between in this business. I really enjoyed her company, lots of laughter, great conversation and incredible performance in the sack. I should have booked her overnight but 3 hours was enough to fully experience her charms and skills.