Read Reviews - Goldie
Goldie is a beautiful petite companion who loves to please and pamper. She's intelligent and sophisticated with the sweetest smile, an amazing figure and a naughty mind.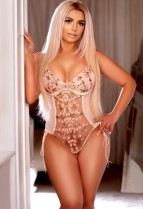 John

|
Date 2022-02-05
|
Service: Incall
|
Duration: 1 Hour
|
Looks: 5
|
Performance: 5
The girl I met was not like the girl in this pic. I trusted the agency with this and they assured me she would be good. I have been using this services before so disappointed to say the least. Once I reached the apartment I met this girl that doesn t look like the photographs!! I still proceeded with the session, as didn t wanna spoil my evening or make her feel bad. There was resistance about everything from no kissing to no touching. The lowest point was just after half an hour I was told "Could you please finish already" ... I mean seriously how can you say that to a paying client? Disappointed!
Daniel

|
Date 2020-11-02
|
Service: Incall
|
Duration: 90 Minutes
|
Looks: 8
|
Performance: 8
This was my second time with Goldie without realising I was going to see the same girl again. She has new photos and it wasn t until I got there that I realised I d been to see her a few weeks back. Nevertheless, it was nice to see that smile again and she is very pleasant company. I don t think her photos on the website are very accurate this time and natural photos would be just fine as she doesn t need any touching up. Saying that, this second encounter exceeded my expectations and I m pleased I landed on her doorstep once again. I cannot recommend her highly enough if you want a nice normal and honest girl. It was surprisingly better than last time, sometimes the case with second encounters. If you re looking for warm, caring and pleasing to the eye then look no further. Thank you again. D x
Adam

|
Date 2020-03-04
|
Service: Incall
|
Duration: 1 Hour
|
Looks: 9
|
Performance: 9
Absolutely amazing experience with this sensational young lady. She looked stunning, great body and the best attitude. The best! Thanks again!