Read Reviews - Jackie
Jackie has a body to die for, stunning looks and a naughty mind. She's a gorgeous, passionate and friendly elite escort, available for incall and outcall appointments.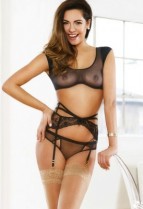 Kam

|
Date 2022-08-19
|
Service: Incall
|
Duration: 1 Hour
|
Looks: 6
|
Performance: 9
Right, I hope anyone wanting to see Jackie will find this helpful. Firstly, I loved her enthusiasm. More often than not you see escorts that can t be bothered, this is not the case here. I can t knock her for effort, she was pleasant, professional and very willing to please. The only down side was that she s just not as attractive as she appears in her photos. I understand the girls have airbrushed and professional photographs. However, this isn t the first time I ve used this agency and I know the standard is high with other girls. I do at least expect to see someone who represents what you see in their pictures. Plus, Jackie isn t one of the cheap escorts either. I ve seen Capri and Maya before now who are both exceptional in the looks department and a lot less expensive. Jackie is by no means unattractive but she is clearly older than stated and not up to the elite standard. And yes I do expect better for that price. Her personality and performance made up for it some what, however, still a disappointment overall. I don t have much free time and don t want to waste it. Do better next time Agency Pink. At least make sure the escorts look like their photos.
Sammy

|
Date 2020-09-27
|
Service: Incall
|
Duration: 1 Hour
|
Looks: 9
|
Performance: 10
I have just had the pleasure of meeting Jackie. She looked absolutely stunning when she opened the door... Hair and makeup done nicely, smelt wonderful and was dressed in a see-through dress that instantly got me horny. Both of us were feeling very naughty and the session itself was hot from the moment we started. She clearly takes pride in her appearance and you will be grateful of that once the clothes come off too. She s groomed to perfection in every way possible ;) Great escort and will book again. Looks a 9 but service a 10.
Jeff

|
Date 2020-09-11
|
Service: Incall
|
Duration: 1 Hour
|
Looks: 9
|
Performance: 9
Jackie was perfect for me. Gentle & sexy, experienced and sweet. The atmosphere was very relaxed and I was able to really enjoy myself with her. She said the feeling was mutual which was nice to hear! Thanks, looking forward to see you again x