Read Reviews - Philomena
Philomena is a beautiful young escort with big green eyes, soft tanned skin and the sweetest smile. She is playful, passionate and friendly with a perfect petite figure.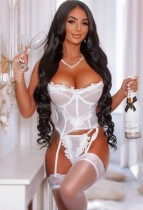 Steve

|
Date 2022-03-12
|
Service: Incall
|
Duration: 1 Hour
|
Looks: 7
|
Performance: 10
The best thing about this one is those HUGE breasts, they are amazing!!! She got me hooked from the moment I saw her and she was not shy when it came to exploring every bit of her. I think she enjoys her work, she certainly seemed to be having fun. Philomena has that special something that you only understand if you spend time with her. If you are lucky enough to see her you know what I mean. She likes pleasing and receiving and is a genuinely nice girl, very sweet and a pleasure to be with. A little too much make-up would be my only negative and it s not needed. Apart from that I am one happy and more than satisfied customer here x
Rob

|
Date 2022-01-08
|
Service: Outcall
|
Duration: Others
|
Looks: 9
|
Performance: 2
A bit of a moaner (not in that way, I wish). We booked 4 ladies, 3 of them were full of fun and just went with the flow, but I got stuck with this one who did nothing but complain. She did not want to be involved with anyone and I was wondering if she even knew what the job entails!! We were very polite and paid her in full but eventually asked her to leave. No issues with the other ladies.