Read Reviews - Olive
Olive is a gorgeous escort with stunning features and a fun loving nature. She's the ideal choice for anyone looking for a beautiful, friendly and easy-going companion.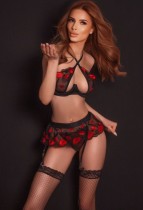 Thomas

|
Date 2023-01-17
|
Service: Incall
|
Duration: 3 Hours
|
Looks: 10
|
Performance: 10
The memory of Olive is still firmly etched in my mind and it has been a week since I saw her now. I think I am well and truly hooked and have booked my next appointment with her already. She was perfect and beautiful and nicer than most girls I have met in normal life. It was my first time but I know this is not my last and I only wish I met her sooner!
Darren

|
Date 2021-12-18
|
Service: Incall
|
Duration: 1 Hour
|
Looks: 7
|
Performance: 9
Very nice, young and extra skinny, just how I like them and just as attractive as her photographs. Olive lives a short walk from me so this could become a regular thing. I was made to feel right at home with drinks on offer and mens shower gel in the bathroom too. I only stayed for one hour and although she was keen for me to stay longer I didn t have time today. Fantastic experience none the less, kissing, cuddles and lots of foreplay and unsurprisingly I will be back!
Franco

|
Date 2020-12-24
|
Service: Incall
|
Duration: 1 Hour
|
Looks: 9
|
Performance: 9
This visit to Olive was my third time and had been planned since I saw her back on the site for my trip to London. I did not need to ask her in advance, when I arrived she was in the black bra/panty set I gave her on my last visit, Great start! Olive is a fantastic kisser, not all girls like it as a service which is the main reason I come back to her. She loves it, is great at it and I am sure she enjoys herself as much as I do. Olive absolutely always gives me 100%. A rare find in the escorting industry and worth visiting each time my work brings me to the capital. Unfortunately that hasn t been a lot recently. Thank you again for another fantastic hour of my life and I hope I get to see you again soon.