Read Reviews - Faye
Faye is a beautiful young escort with a gorgeous body and stunning features. She's the perfect companion for a dinner date out or a romantic night in.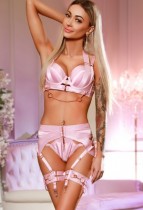 Kurt

|
Date 2022-05-20
|
Service: Incall
|
Duration: 1 Hour
|
Looks: 8
|
Performance: 8
Looking just about as good as her pictures (they re never the same as their edited pics). Faye was a nice choice, warm, good personality and speaks very good English. It is nice to at least have a conversation to break the ice and I ve met a few before that don t even manage the basics. There were a few rules but nothing outrageous and she wasn t in a rush. She does share a flat with one other girl so if you want privacy you might not get it. Overall it has been a good experience and one I d consider seeing again.
Michael

|
Date 2022-01-28
|
Service: Incall
|
Duration: 90 Minutes
|
Looks: 8
|
Performance: 1
Faye arrived late and prolonged our conversation never mentioning services. After a time I realized that she was consuming the majority of our scheduled 90 minutes. When I asked about services she said there was not enough time remaining. I was scammed. Beware!!
Lawrence

|
Date 2021-09-07
|
Service: Incall
|
Duration: 2 Hours
|
Looks: 10
|
Performance: 7
OMG... When she opened the door, I was smiling right until I left. She looks gorgeous, very rarely a cheap girl looks as good as photos, especially when the photos look that good, but Faye is hot. Friendly enough but a little cold in nature, excellent English though and amazing body. Kissing followed but not deep however lots of different positions were explored. Stunning and good service but a little room for improvement.