Read Reviews - Finley
Finley is a passionate, playful, fun and naturally very beautiful companion with a cute smile and youthful complexion. She takes good care of her body and it shows.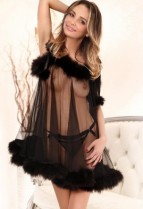 George

|
Date 2022-10-06
|
Service: Incall
|
Duration: 1 Hour
|
Looks: 7
|
Performance: 6
Overpriced in my opinion and not nearly as professional as I would have expected her to be. The flat is too small and she shares it with another girl. Her nails weren t done and she didn t make much of an effort to look presentable. It felt like she wasn t expecting me and rushed to get herself ready. She s nice enough if you re not looking for a top escort. There s better out there for half the price.
Youseff

|
Date 2021-06-26
|
Service: Incall
|
Duration: 1 Hour
|
Looks: 7
|
Performance: 6
Beautiful body. Looks a bit different from pictures and not so young or attractive but nice enough so I went with it. I found her to be a little aloof and my time was rushed. Hence, it was not enjoyable as it easily could have been.
Thomas

|
Date 2021-01-21
|
Service: Incall
|
Duration: 2 Hours
|
Looks: 7
|
Performance: 8
Another one who doesn t look like her pictures. What is going on with the quality control here Agency Pink? She was nice to talk to thankfully and I made the trip so stayed for the time I d booked out of decency, but come on, at least use photos that look real and are recent. In Finley s defence, she is a nice girl and was happy to try new things to please me. Having her legs spread wide open like that was a new one for me and the main reason I booked her in the first place so at least that isn t a let down. She s quite open minded and not afraid to get stuck in but no kissing. On the whole worked pretty damp hard to make me finish and I can see why she is popular with some. For me, booking a return visit is off the cards as I have seen better before for less.
Henry Mortimer

|
Date 2020-04-02
|
Service: Incall
|
Duration: 2 Hours
|
Looks: 8
|
Performance: 10
Should have booked Finley for longer than two hours, but the next was waiting... She is obviously very popular and it s easy to understand why. She gave a warm welcome with kisses on arrival, very tidy apartment I might add. I was given a chilled glass of wine, which was a nice touch. About her - a fabulous soft body, with small tits but good ones. Nice personality and good figure with the sweetest tightest ***** and the most gorgeous little bum. Finley is as sensual as they get and a good GFE. An amazing young lady, highly intelligent, charming personality and great conversationalist and she loves sex. An absolutely fabulous experience in all aspects. Performance was superb! Started with a long foreplay, eye contact and only few, but nice words. Two pops within two hours. When we finally relaxed, we were close and touched each other s bodies. This girl has a heart of gold. Highly recommended! Would certainly see her again. Please treat her with respect, that she deserves!
Sanjay

|
Date 2019-11-30
|
Service: Incall
|
Duration: 1 Hour
|
Looks: 10
|
Performance: 10
Finley was just perfect again. I think she is a star escort at your agency and always looked after me very well. I have seen her 3 times and she is very busy but I will only ask for her because I have seen not very good ones before. She is very good and remembers what I like.
Ted

|
Date 2019-11-29
|
Service: Incall
|
Duration: 2 Hours
|
Looks: 7
|
Performance: 10
2 of the best hours of my life!