Read Reviews - Amanda
Amanda is a sexy, sultry and a breathtakingly gorgeous London escort companion. She has a body to die for, silky soft skin and charm and poise to match.
77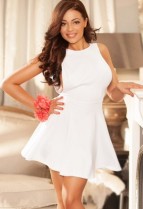 Kurt times

|
Date 2017-02-22
|
Service: Incall
|
Duration: 1 Hour
|
Looks: 8
|
Performance: 8
Amanda was a lovely girl, looking just as good as the pictures. She has a warm personality, speaks good English and is nice to have a conversation with. She has a few rules but nothing outrageous. Shares a flat with one other girl. Overall it's been a good experience.
Tom

|
Date 2016-02-27
|
Service: Incall
|
Duration: 2 Hours
|
Looks: 10
|
Performance: 9
I spent the most wonderful hour an afternoon will allow. Amanda was very welcoming. Once in we opened a bottle of wine and I was offered a shower. We drank and chatted for a while, and I was impressed by not only her perfect english but the genuine interest in life and it's experiences. Now what followed is between us, but suffice it to say that I will remember forever the sights, tastes and sensations that did. Amanda, you are a very special young woman and I wish you all the best in life.
Aaron

|
Date 2016-02-13
|
Service: Incall
|
Duration: 2 Hours
|
Looks: 10
|
Performance: 10
I just love spanking her peachy bum, and if you spank her right she really loves it! See you soon for another naughty session Amanda xxx
Hugh

|
Date 2014-11-07
|
Service: Incall
|
Duration: 1 Hour
|
Looks: 9
|
Performance: 10
What a dream girl and a great find considering I pass Notting Hill gate most days on my way to work. She was surprisingly warm and friendly (not always the case as I discovered recently with another agency). I have seen in the past a few rude escorts and to be honest my expectations were not high after my last experience. I am so so happy Amanda wasn't a wast of time and my faith in the escort industry is restored once again. I look forward to using the agency Pink again and if they are all like this one then I'm laughing. Thank you Amanda for a really special hour, you made my day.
Andrew

|
Date 2014-10-08
|
Service: Incall
|
Duration: 2 Hours
|
Looks: 8
|
Performance: 10
When you get down to it all you really want from an escort is somebody that looks nice and gives a good service. This girl is both. For the time I was there I felt like I was the only person that mattered and it feels like she is actually interested in you. I would definitely see Amanda again she was polite and friendly and gave me everything I wanted. Service with a smile :)
G Man

|
Date 2014-09-21
|
Service: Incall
|
Duration: 1 Hour
|
Looks: 8
|
Performance: 9
I went to see Amanda at her flat. It is a very smart building and just a short walk from Nottinghill gate station and very easy to find. Amanda was as sweet as they come, she's a really nice girl and sexy with a fun side which was a nice change. I would definately see again but I will say that she isn't as slim as she looks in the photos. She's not overweight but the photos make her look a size smaller than she really is. It didn't bother me as I still thought she looked great but if you want a skinny girl you might be disappointed x
Brian

|
Date 2014-08-01
|
Service: Incall
|
Duration: 1 Hour
|
Looks: 8
|
Performance: 10
A real girlfriend experience and looks exactly like her photos. A stunning young lady and nice with it. She has a big clean place in Notting Hill and I felt relaxed as soon as I arrived. She didn't hurry me and I stayed over my time without it being a problem. Thanks, B xx
Harry

|
Date 2013-11-21
|
Service: Incall
|
Duration: 1 Hour
|
Looks: 9
|
Performance: 8
She is actually very sweet and offers a good service. She is as she appears in her photos and she is happy to kiss. It was a good experience and Amanda is a very nice young lady. She has a nice clean flat and she made me feel very welcome. Thank you Amanda x