Read Reviews - Simona
Simona is a stunning blonde with a sensational body and a beautiful smile. The's caring and attentive escort in London always aims to please and makes the ideal date.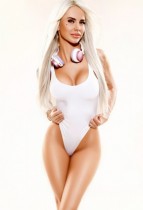 Mr Jenkings

|
Date 2020-08-18
|
Service: Incall
|
Duration: 1 Hour
|
Looks: 8
|
Performance: 8
Very happy with the service that was provided to me. Simona was stunning and it makes a difference when you see a lady that actually likes men and spending time with them! She was warm, friendly with a good sense of humour. She respected my wishes and I respected her too. She was a delight and I am very glad I saw her.
Brian

|
Date 2019-02-08
|
Service: Incall
|
Duration: 2 Hours
|
Looks: 7
|
Performance: 8
Thanks for your time today Simona. I just wanted to say what a really nice time I had with you. The perfect hostess and my ideal shapely body, you know I loved every bit of you. Until we meet again...