Read Reviews - Petula
Petula is gorgeous escort - young, fun and passionate and a great choice if you like to be pampered all night long. She has a natural sex appeal that is hard to ignore.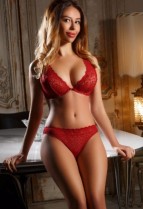 Emmet

|
Date 2020-03-14
|
Service: Incall
|
Duration: 90 Minutes
|
Looks: 9
|
Performance: 9
Goddess-like body - in every department. Breasts clearly speak for themselves, not real I have to add but round and soft and perfect. Lovely girl too, with staying power. You won t be disappointed! Tip - make sure you get here full lips service special. 100% worth it.