Read Reviews - Electra
Electra is a passionate, playful, fun and naturally very beautiful companion with a cute smile and youthful complexion. She takes good care of her body and it shows!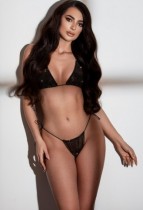 William

|
Date 2021-03-24
|
Service: Outcall
|
Duration: 1 Hour
|
Looks: 8
|
Performance: 8
Honest review: Very good looking for the price, nice personality, keen to please and has a number of toys and extras on offer. One of the better escorts I have seen for a while. I am a bit out of practice but Electra was very pleasant for a newbie. The quality seems to be getting better these days. Not the best flat but by no means a bad choice to go for. For a safe bet she s worth seeing.