Read Reviews - Charity
Charity is a gorgeous, sexy and passionate elite escort. She's always well presented, charming and sweet and her relaxed and gentle nature makes her the ideal choice.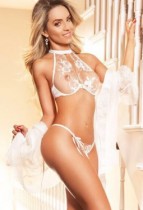 Frenchy ;)

|
Date 2019-08-17
|
Service: Outcall
|
Duration: 2 Hours
|
Looks: 10
|
Performance: 10
I asked for Tatiana and she was not available so I was sent Charity as a similar match and in fact I m am rather glad they did. I found Charity to be a most pleasant young companion. Extremely sexy and dressed to impress in a tight fitted dress and stockings. I asked for a selection of lingerie which she obviously thought about and she was spot on with her choices. She started with a relaxing massage that soon turned into something much more erotic. She came prepared with oils and toys and it was out of this world and I m still thinking about her now. Thanks so much an incredible evening. Well worth booking and I hope to see you again x
frank

|
Date 2019-03-21
|
Service: Incall
|
Duration: 2 Hours
|
Looks: 9
|
Performance: 10
Thank you Charity, I had a lovely experience. You are a beautiful lady, warm and kind and didn t make me feel uneasy one bit. Honestly guys, she was exceptional, elegant, well mannered and with great personality. I left there wishing I could stay all night. Already planning my next visit...
Stephen G

|
Date 2018-02-14
|
Service: Incall
|
Duration: 1 Hour
|
Looks: 10
|
Performance: 10
Charity was just what I needed. Wow what a figure what a smile and great personality too, warm and passionate, smart and caring and attends all your needs fully. Perfect English too, which helps. She made me want to stay longer but I didn t have time. Such a shame but I ll know for next time. She was incredible and gives an impeccable service! Thank you!